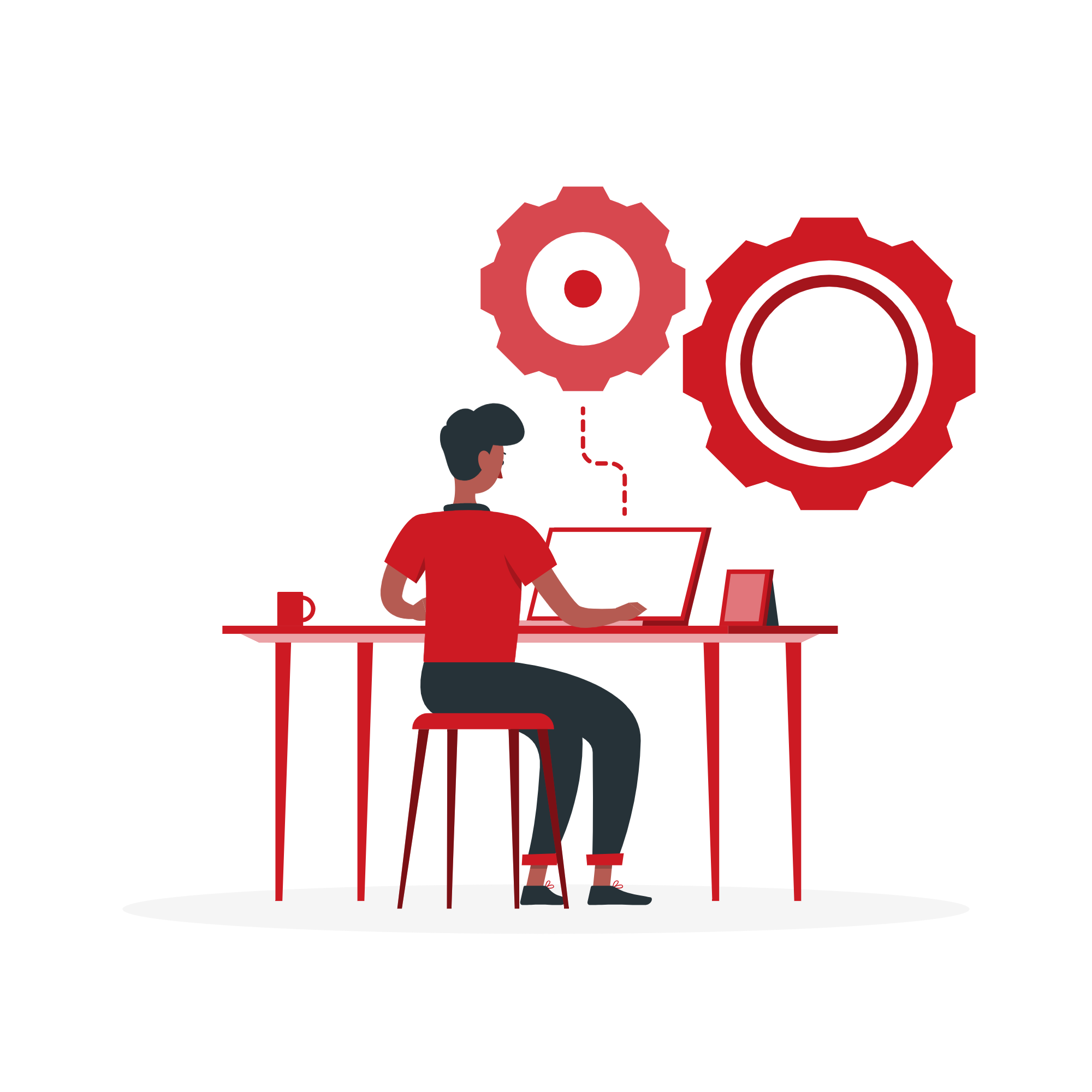 Configure 2 Quote
Integrated to the product catalog and products defined in SpiceCRM, it is easy to create quotes and configure them.
The special features of Sales Documents enable the Sales Team to configure any sales document: quote, order, invoice, contract. It is also possible to define the document layout, enter quote items as free text or relate to any product already specified in SpiceCRM. Furthermore, the sales documents can be updated according to the further course of the sales process by converting the quote into an order, then the order into an invoice.
The Sales Team is entitled to customize and deposit document output templates, print them as PDF with CI and send documents with CRM direct mail option.
Integrated to the product catalog and products defined in SpiceCRM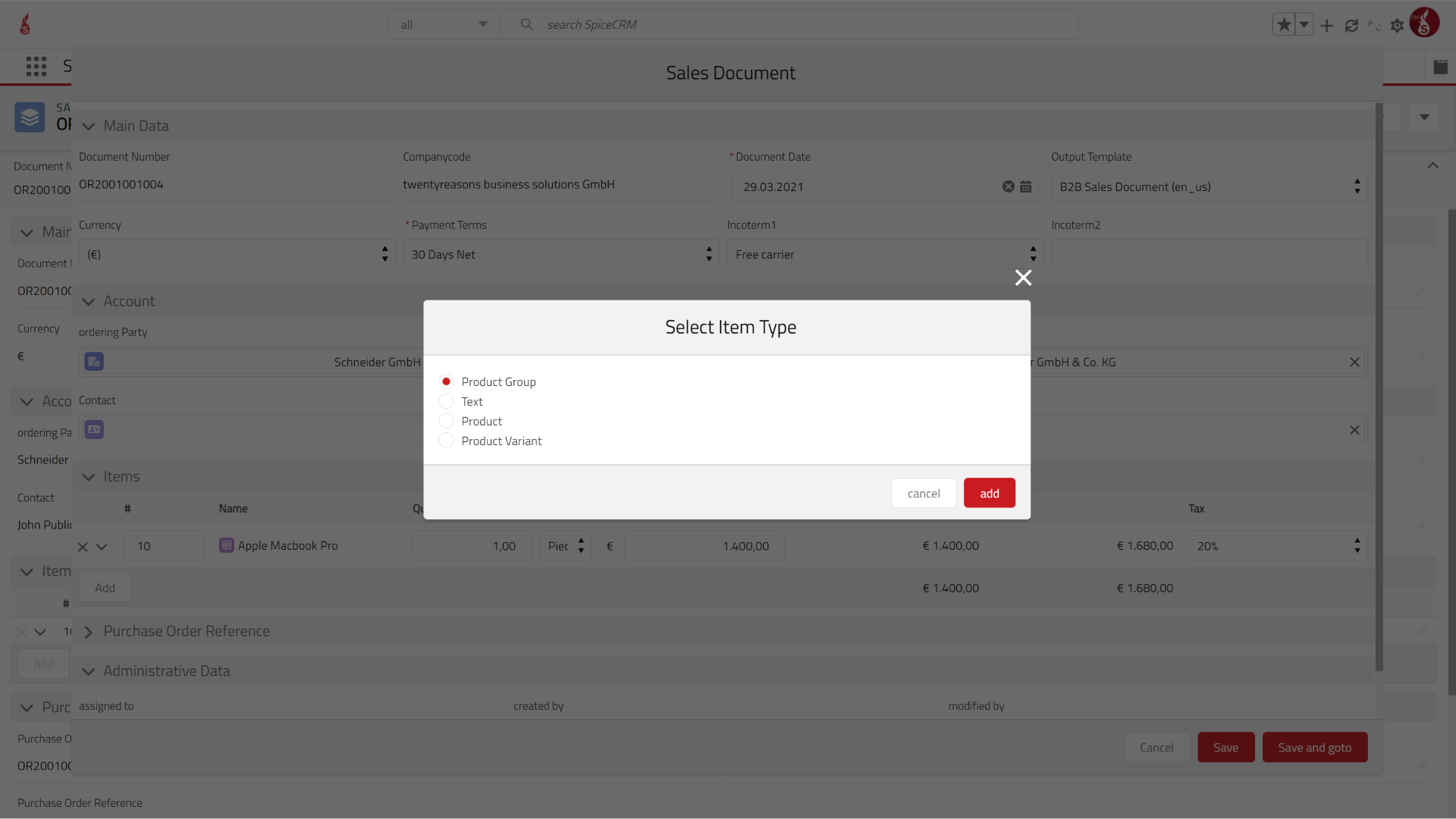 All your products may be managed within SpiceCRM product manager: product groups, product names and their variants using the attribute selector. Having the products registered in CRM will allow you to create a quote using the integrated product catalog. Create a quote, select products, fill in quantity and modify the price depending on the price conditions negotiated with your customer.

Every sales document needs a header containing information about issuing party. The multiple company management in SpiceCRM is useful when multiple companies are using the same CRM. This happens when you have a business with locations in different parts of the world. Register them as sales document issuing party in CRM and select proper company code in any sales document.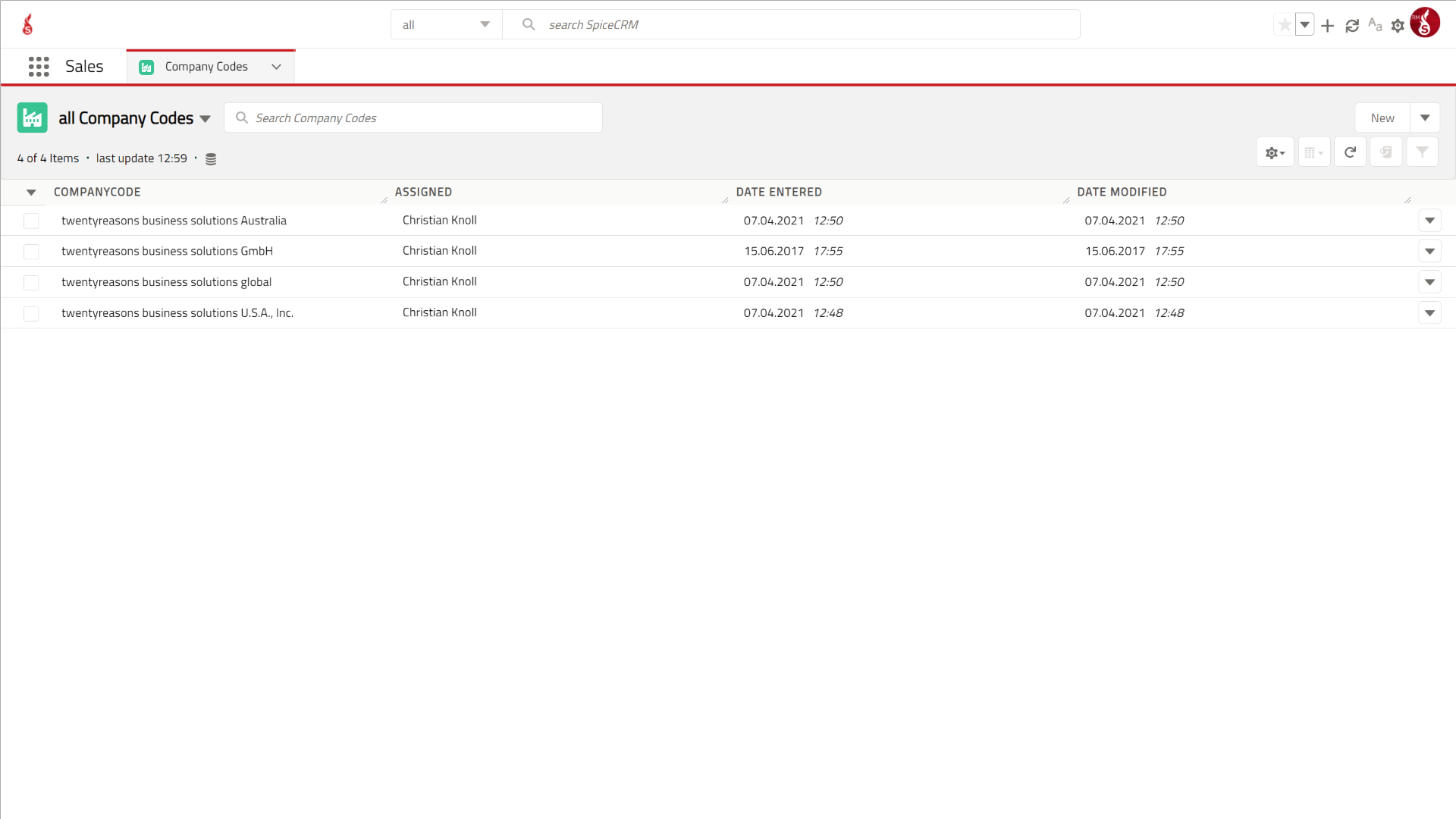 Configurable document types (quote, contract, order, invoice) and document flow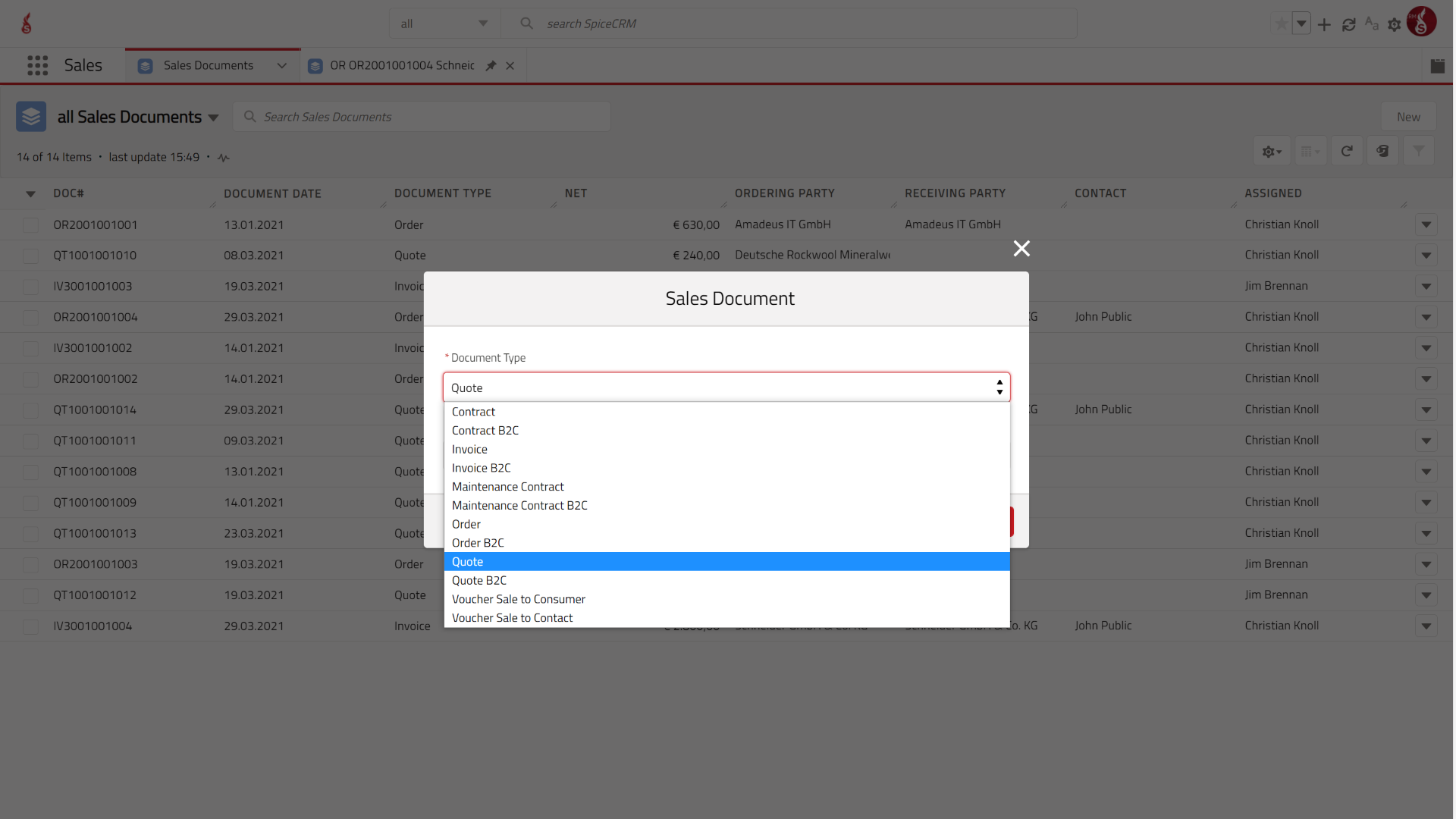 Classic business processes include series of sales documents like quotes, orders, invoices. Before you sell anything, you will send a quote to your customers. When the customers decide to buy they will place an order that will look like the quote. It might differ a little from the original quote but basically, the same information will appear in the order. Using SpiceCRM document flow will make it easy to create an order from a quote. Quote information is first copied to the order then you may adapt prices, quantities, add or remove items. The same flow can be applied to create the invoice corresponding to the order. SpiceCRM sales document flow will help you to keep track of orders and payments.
Create PDFs and send documents with direct mail option
After creating a sales document in CRM you will be able to publish it as a printable PDF version that can be sent right away via e-mail to your customer. SpiceCRM allows you to manage and customize multiple PDF templates by adding your logo or completing your bank details. The faster the invoice is out the sooner your bank account will be credited.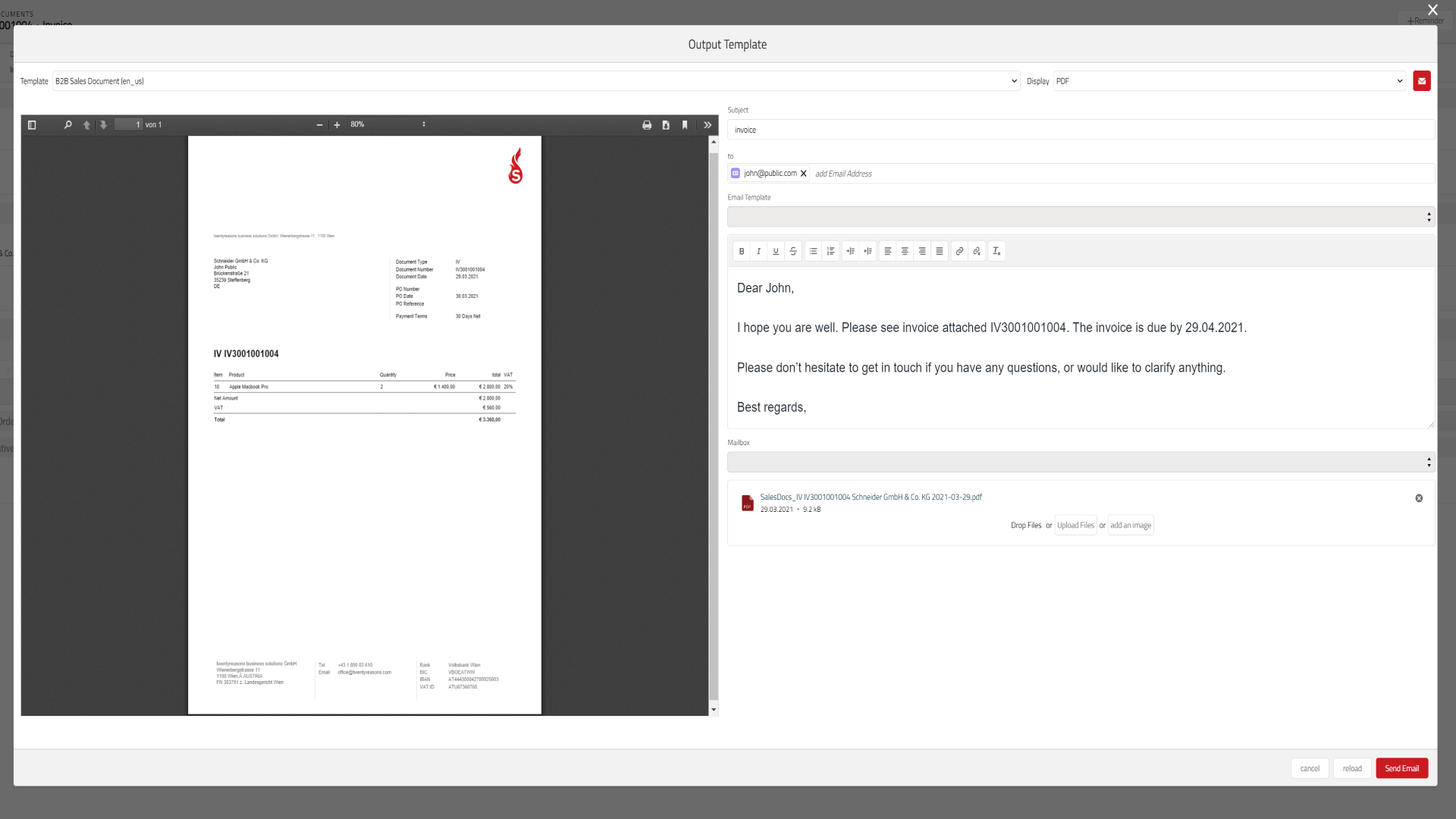 Integration to backend ERP Systems (e.g. SAP)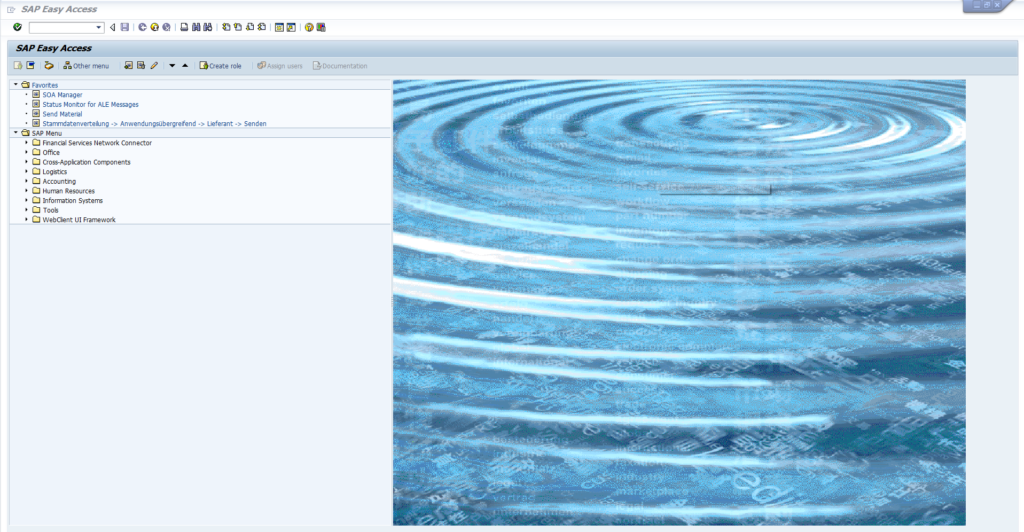 Complex ERP systems guarantee stable flow in accounting but they often suffer from a lack of usability. By integrating your accounting or your ERP system with SpiceCRM you will make useful sales information available for your employees directly in CRM. Data might sales documents, consolidated statistics… whatever makes sense for the users and for reporting.