Focus on what matters
Put the customer in the center of all actions. Ensure that everybody who is in touch with your customers has a complete picture and delivers a unique and outstanding customer experience.
Request a Demo
Optimize Processes
Optmize Processes from planning and estimating Projects, communicating dates that are reliable. Use SpiceCRM to collect data and streamline the activitiy collection and settlement. Do this in a timely, professional and reliable matter.
Request a Demo
Best in Class Support
Leverage SpiceCRM'S built in Service Management Capabilities. Track Service Calls, manage Service Tickets, with clear SLAs and OmniChannel support. Fast response and transparent communication are key to trusted customer relationships that are long lasting.
Request a Demo
Know how you perform
Gather Customer Feedback with SpiceCRMs integrated Service Feedback Management. Get the customers response direct and fast. Derive areas of improvement for your organization and rate yourself to peers in your segment based on the NPS.
Request a Demo
Professional Services Providers
Deliver best in class services with a true Omni Channel based CRM
Omni Channel Presence right out of CRM

Handle Leads and your service Pipeline

Budget, plan and setup projects

Capture efforts and manage quote to settlement in an integrated system

Manage service tickets and customer feedba

ck
Logistic Service Providers
Orchestrate the supply chain from demand to shipped goods connecting all partners seamlessly
Pipeline management from lead to contract
Generate pixel perfect quotes from within the system
Full visibility of delivered services
Improve customer service with the ticket handling and management
Public Services / NGOs
Manage your Eco System with full transparency on your value chain.
Better understand your supporters and all the involved players with a true 360° view
Manage customer and partner relationships
Handle and manage events, inviting the proper people, managing attendance and feedback
Take customer service and feedback seriously and guarantee follow through service.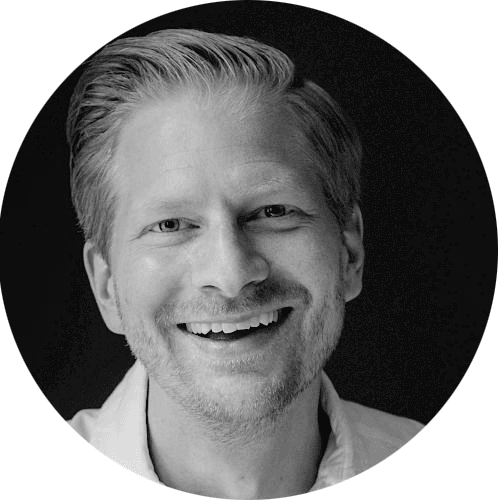 "Implementing SpiceCRM was a significant step for us that enabled us to deliver better service and also to fully digitialize our service delivery. It connects out content management with our consultants and our customers delivering a true omnichannel customer experience."
Johann Claussen, Managing Partner Struss & Claussen Personal Development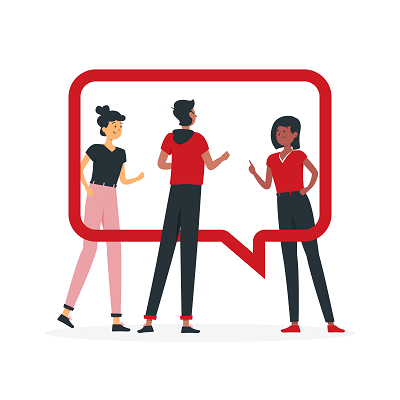 Communicate and sell your services, on all channels
SpiceCRM supports managing products, knowledge and services. It integrates seamlessly into your CMS or e-commerce platform. It also supports various channels for communication from email, to e-marketing, to social media to SMS. Integrated Product Marketing also helps to link the product and service development teams to collaborate closely with sales and service delivery.
Detail offers in CRM

Manage Target Lists and Audiences

Communicate offers consistently on all channels

Manage an integrated product development and delivery lifecycle
Bring visibility to your pipeline
Manage your Pipeline – from lead to closed Contract. Use SpiceCRMs option to create quotes right out of CRM and close the opportunity. Manage a clear pipeline for your business that allows you to increase your forecast accuracy.
Capture Leads on all Channels

Integrate your Webpage or e-commerce offers

Manage projects in the pipeline with clear revenue splits and ramp ups and product allocation

Leverage SpiceCRM's CPQ option to build quotes in the systems

Increase the forecast accuracy with better pipeline visibility and accuracy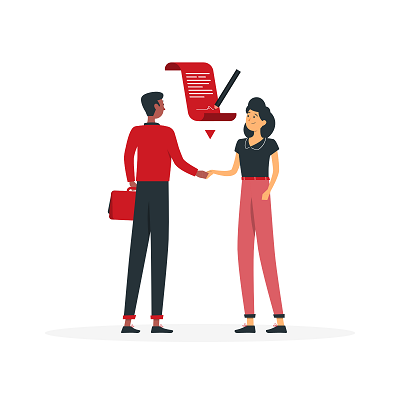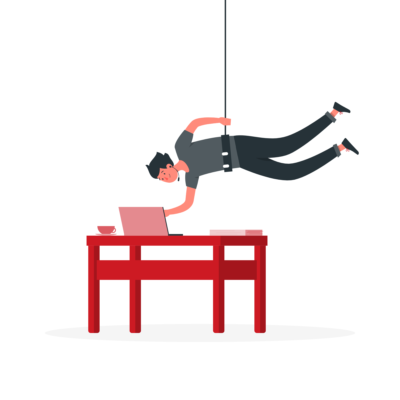 Plan and execute projects optimizing your delivery
Plan your engagement and project properly allocating all resources required with a clear picture of availability and the resource load. SpiceCRM helps you to ensure that Sales and Delivery will work properly together and start planning the projects when they hit the pipeline. This will not only help you to align the teams early on in the sales cycle but will also ensure to guarantee committed delivery dates that are reliable and achievable. The transparency during delivery will support that all teams also have a common understanding of the progress and the current status of projects.
Integrated planning and budgeting of projects

Create and plan projects early on in the customer engagement

Report progress and ensure project visibility from sales to service

Utilize the integrated invoicing and billing based on reported efforts
With the full service suite in SpiceCRM, you can manage the complete customer service process. From taking calls to managing tickets to gathering customer feedback. SLAs will help you to ensure that customers are happy and no ticket gets lost. SpiceCRM also supports customer surveys using the built-in engine.
Full integrated ticketing process

SLA management ensure service levels are held

Utilize customer and NPS surveys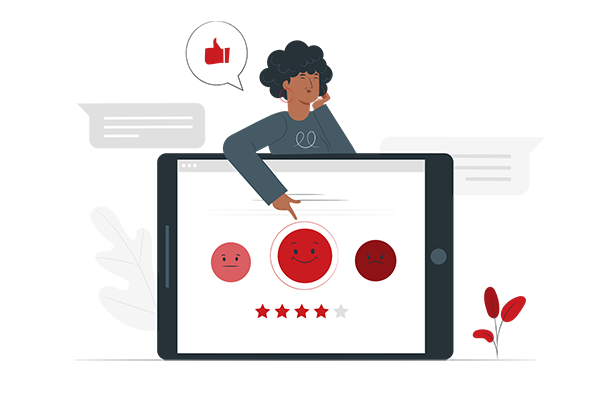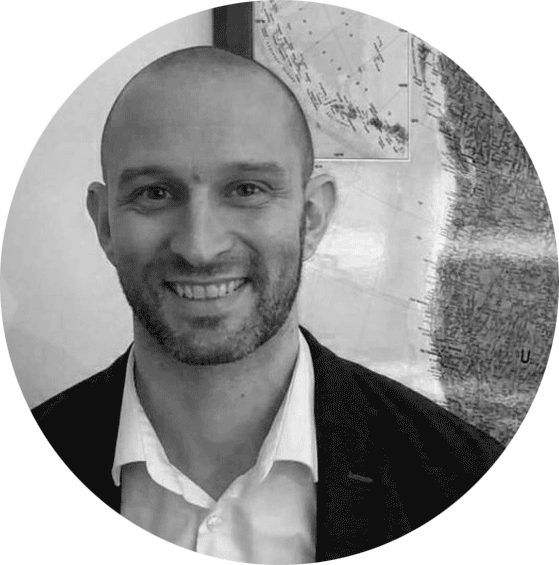 "SpiceCRM is really easy to use. It was easy to implement and provides a great base for us to grow our business.. The integrated reporting delivers fast and accurate insights."
Michael Filler, Director Air & Sea, Ontime Logistics Speditions GmbH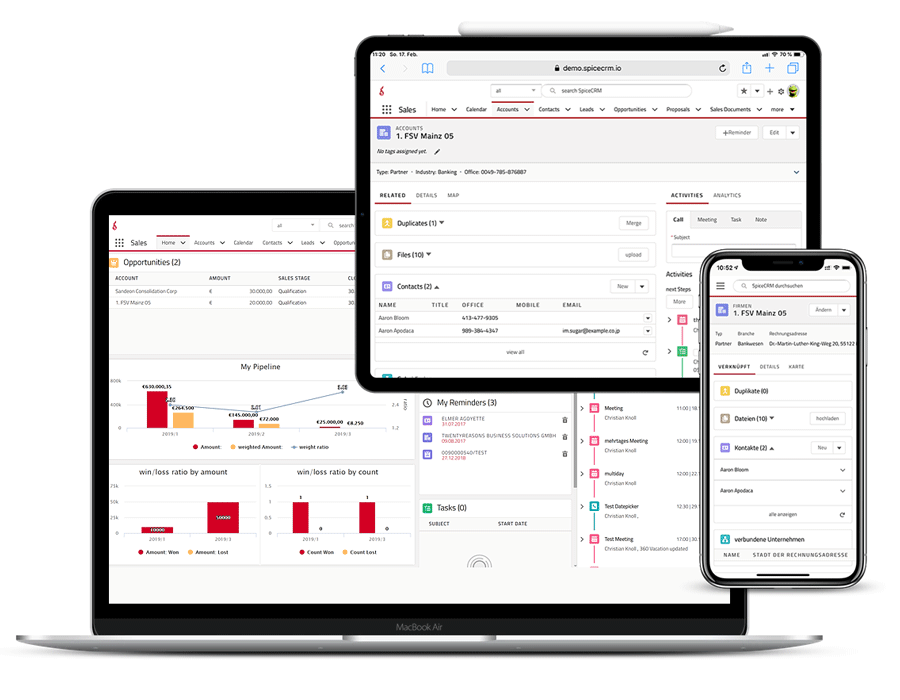 CRM as flexible as your business needs
Being flexible and user-friendly is key to CRM adoption. Not only does SpiceCRM provide a unique user-interface but it also adapts to the use and the environment and provides a unique user-experience. Use it when and in what form you need it. It will adapt to your need and environment. Use it on the Desktop, on the tablet, as a mobile app on iOS or Android. Use it in Outlook or as part of GSuite and also use it with Lotus Notes. And if that is not enough the flexibility will allow you to further adapt it and match your business use cases.