"I don't understand this whole Twitter, Facebook stuff. I don't get it. Make a phone call. Talk to somebody."
SpiceCRM Telephony – make your phone part of your CRM
Despite all channels and ways of communication, the phone call is still an essential part of the business conversation. SpiceCRM offers a flexible framework to integrate various telephony systems right into the CRM processes. This ranges from the simple click to dial, to the inbound call handling and up to the call center and calling campaign handling for larger call centers and telemarketing.

OUTBOUND
Integrate a broad selection of phone systems and dial any number with one click in your CRM system. Also with an automated option to log outgoing call attempts and logging of call notes in CRM.

INBOUND
Catch incoming calls on a broad selection of phone systems. Pop up the records found in CRM enabling your users to know who is calling and get all data with a simple click without the need to search.

CALLCENTER
Integrate the phone systems into your CRM systems for Telemarketing and Telesales. SpiceCRM helps you to define the campaign, execute them and monitor the progress. All with efficiency for your agents in mind.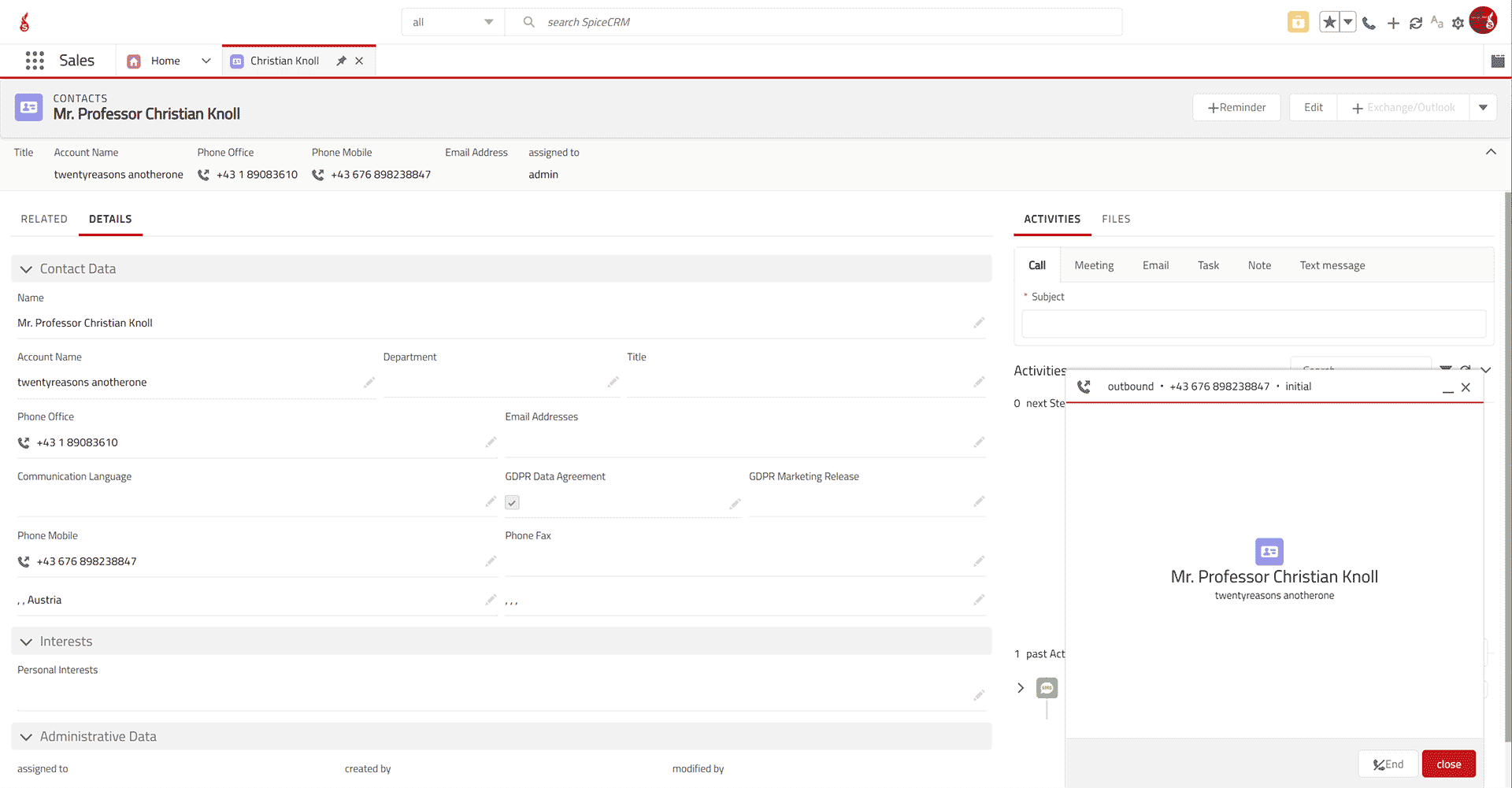 Inbound & Outbound Calling
With the telephony integration enabled you can dial any number with a simple click. In the same way, any inbound call is captured. The system will try to match and find the number on any record that per its definition is defined to participate in the telephony search. With the event integration also the status of the call is tracked and interactions can be triggered based on the call state (ringing, connected, ended). Depending on the phone system also certain actions (like ending the call or transferring the call) might be available.
Additionally, all calls (inbound and outbound) are automatically tracked and recorded, providing full visibility on all calls as they are completed.
Telemarketing & Telesales
Telemarketing or Telesales can either be triggered by Auto Dialers like five9 or 3CX or Avaya and others. These campaigns can also be executed using the Telecockpit provided by SpiceCRM: this is easy to use, all integrated and highly configurable cockpit for the tele agent. Campaigns with targets can be defined and listed for calling to a tele agent. Results can be easily captured. Also calling attempts and an easy rescheduling of calls. The Telecockpit has been designed with call centers in mind where anything needs to be streamlined and focused on efficiency.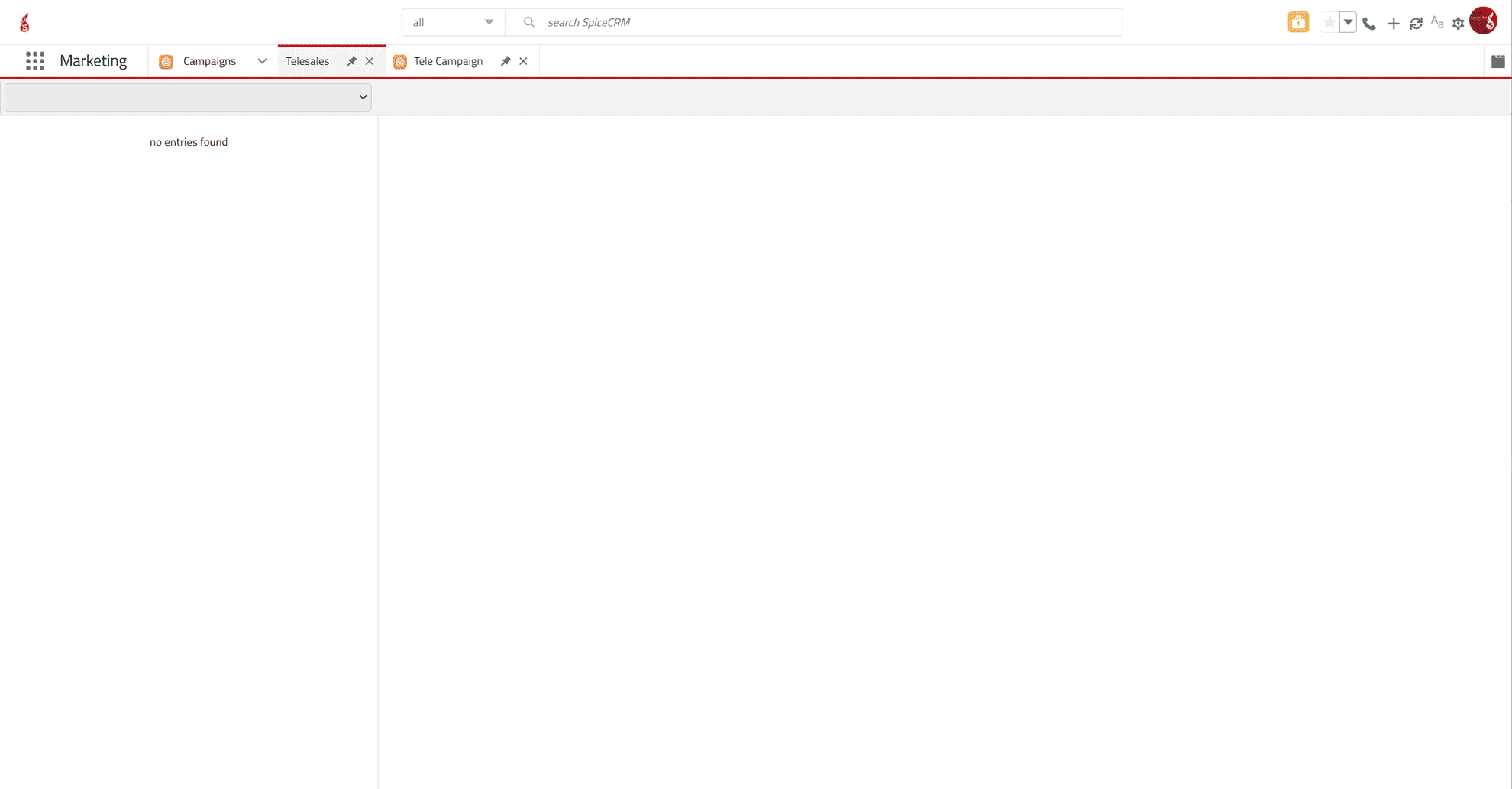 CONFIGURABLE
SpiceCRM provides a ready-made set of components for telephony integration. This covers the docked composers plus the dialogs and elements that are rendered therein. As with all other areas in SpiceCRM these elements are also highly customizable and can also be extended to fit your needs. The complete communication is built on WebSocket standards and relies on the SpiceCRM notification framework.

OPEN API
The ready-made components provide standardized services as well as an open API framework. The ready-made components include the frontend framework, the components with all regular configuration options, the link to the realtime (Node.js, WebSocket) server to have truly real-time integrations. It also provides a flexible framework to integrate other telephony systems. So if your systems are not yet listed, the toolset to integrate is there.

There is a wide variety of phone systems where ready-made connectors are available. This makes the connection of one of these systems quite easy. The additional efforts for the integrations are quite minimal and the process straight forward. These connectors are provided by various of our partners. If you are interested in any of these please contact us.