"We cannot solve our problems with the same thinking we used when we created them."
In the end it is bits and bytes that make the difference
CRM is more than ever a technology game. Over the years this has developed into a major category that is functionally well defined. In parallel the web has changed. HTML5 is a standard for modern applications and the browser is becoming one of the main application platforms. Even more so – technology and the solution built with it matters.
SpiceCRM combines several Open-Source components building a one-of-a-kind Platform for the next generation CRM tool. The core is the well proven SugarCRM Community Edition platform. The technology based on elastic to provide a best-in-class search experience as well as Angular (one of the main toolkits that currently drives modern web applications). and last but not lest the frontend embraces Lightning design for the user interface.

CHOICE
SpiceCRM is yours. It is open. It offers you choice. This ranges from your choice of features. This ranges from your choice if you prefer a cloud service or an on-premise solution. This offers you the choice if you want to take care of you CRM yourself or have a Solution provider do this for you. No Lock-In – all options.

LOADED
SpiceCRM comes feature rich. This ranges from Marketing to Sales, to service and project management. It ranges form a flexible backend, to a state-of-the-art frontend. From addins for your Groupware to the integration of your telephony system. And all is bult on one platform., fast, secure, responsive.
FIT FOR THE FUTURE
Matter of fact – you do not need the CRM solution that fits your organization today, you need the one that fist you company tomorrow. SpiceCRM will help you. It is all built around flexibility allowing almost unlimited configuration and customization. And with best in class tooling there will literally be no requirement that cannot be accomplished.
SpiceCRM's Dual License modal
SpiceCRM is an Open Source CRM System. The core and all its libraries are based on a free GPL License. This enables large customers to take advantage of the cost benefits. It enables it service providers to utilize the libraries and build on top of it. The functional scope of the GPL licensed core product is rich and offers a full set of CRM functions. On top of that we offer a commercial extension that in additon to the free product also provides more specific functions for enterprise grade users or specific use cases. The "more" edition of SpiceCRM is commercially licensed and optionally also provided as Cloud Service.
Read all about the "core" vs the "more" here.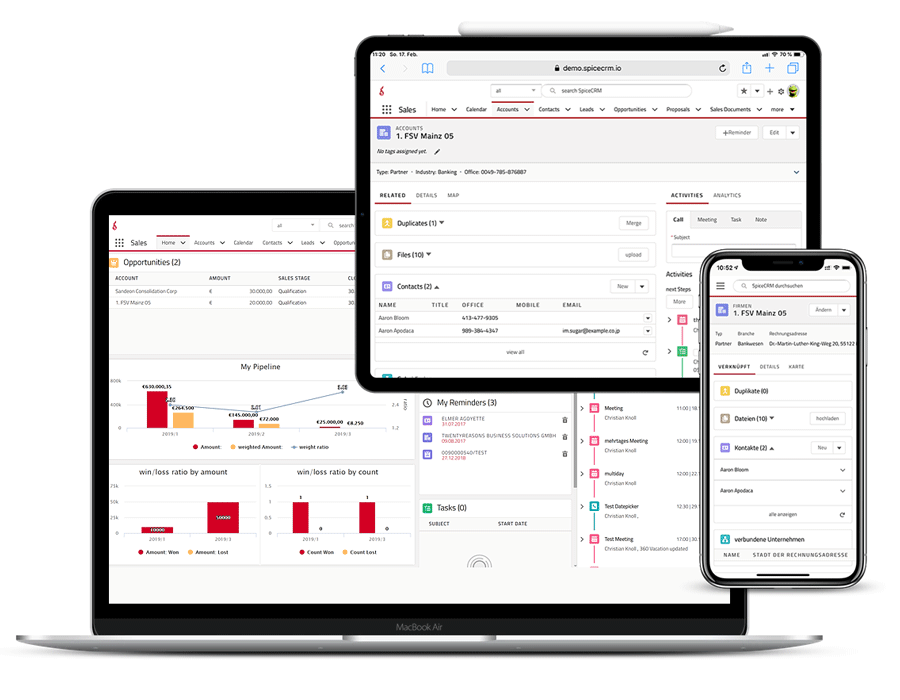 a CRM as flexible as your business needs
Being flexible and user-friendly is key to CRM adoption. Not only does SpiceCRM provide a unique user-interface but it also adopts to the use and the environment and provides a unique user-experience. Use it when and in what form you need it. It will adapt to your need and environment. Use it on the Desktop, on the tablet, as mobile app on iOS or Android. Use it in Outlook or as part of GSuite. Use it with Lotus Notes. And if that is not enough the flexibility will allow to further adopt it and match your businesses use cases..