"The best thing to hold onto in life is each other"
SpiceCRM and Groupware – twins separated at birth
While we of course strive to offer a maximum in terms of functionality and ease of use we are fully aware that CRM systems are only one part of the toolsets used in a customer-facing organization. Using Mail, Calendars and all the other features that groupware offers need to be tightly integrated into a CRM system to make the work for the user as easy as it should be. That is also wahat we aim for with the SpiceCRM Groupware add-ins – linking the key processes between SpiceCRM and the systems used to make the usage as seamless as possible.

EXCHANGE
SpiceCRM connects seamlessly with an exchange server installed on your premises or hosted by a provider for you. The requirement is a minimum version of 2016 and also the installed Exchange Web services that are required to link SpiceCRM to Exchange. You can also deploy the XML for the Outlook Addin to allow users to access SpiceCRM from within Outlook.

OFFICE 365
Similar to Exchange SpiceCRM also integrates seamlessly into Office 365. The only thing you will need to do is to create a proper user with the rights to connect and access other users' mailboxes and calendars. The services are provided automatically by Microsoft.

GSUITE
SpicecRM also integrates in the same manner with GSuite. Starting from login with Google to the calendar and email integration. On top of that SpiceCRM also provides a Chrome Addin to bring SpiceCRM to the GMail Client allowing you to get customer information in Gmail and also archive emails right from there.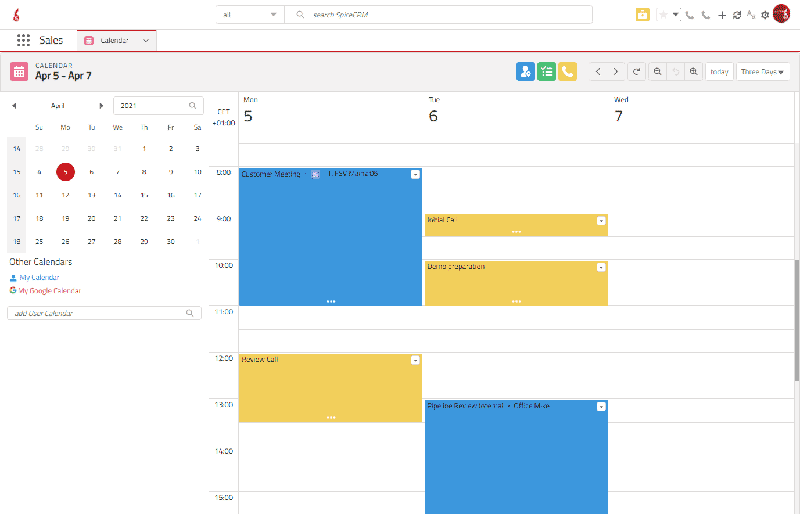 SpiceCRM keeps your calendars in sync. Any change you make in SpiceCRM adding calls or meetings is reflected in your calendar. In the same way the other way round. Make changes in Outlook or Google Calendar and see the results immediately in SpiceCRM. As an additional feature, the Calendar in SpcieCRM also allows you to see all appointments you only maintain in the groupware calendar (meetings and events not relevant for CRM) thus getting a full picture of your daily schedule in CRM allowing you to plan better and in one tool.
The add-in in Outlook also allows that you create meetings and calls in Outlook and then link them to records (Customers, Leads, Opportunities) in SpiceCRM. Work in the environment you prefer – let SpiceCRM do the rest.
Mark Contacts in SpiceCRM that you want to be synced to your Address Book. All relevant data is also visible in Outlook and also kept up to date. Whenever a change occurs in SpiceCRM the Groupware contact is updated synchronously. Changes back are not taken over so this is one-way sync towards the groupware since relevant data cannot be checked when changed in the Groupware or information like the link to an account is simply not available.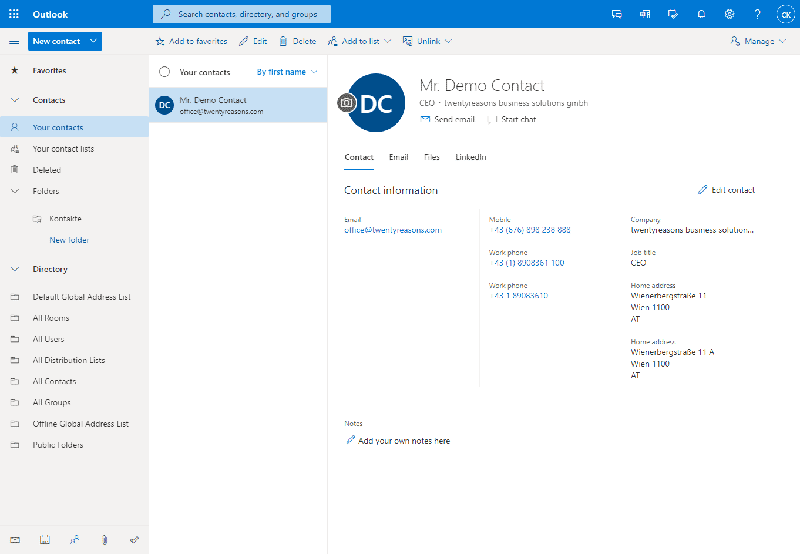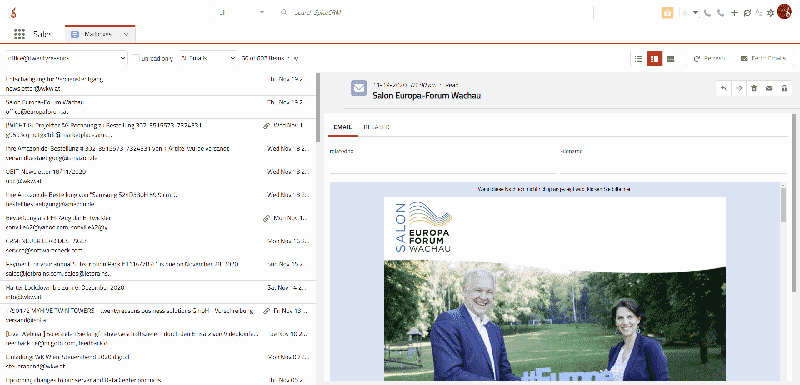 Manage group mailboxes right in CRM. Not only do you ensure that all remails that come inbound to generic addresses are properly stored and handled – but you can also link predefined or custom build processors. They detect if the email addresses are known and can assign the emails to known contacts, leads or prospects. They can also trigger automated processes like the creation of emails. And they can also utilize build-in intelligence to parse the email for example for known numbers like ticket numbers or invoices and find the proper item in CRM right away. This eliminates routine tasks and also speeds up processes internally as manual intervention and forwarding etc is a thing of the past.
You can also use these group mailboxes to respond or communicate with your customers. Group mailboxes can also link the defined services like SMTP/IMAP, Google mail, EWS, Mailgun or Sendgrid.
SpiceCRM also allows you to compose and write emails right in the system. This also allows you to use predefined templates, access the complete CRM address book and contacts directly and also leverage other CRM resources. Attach Files and images and archive the email right away. With the integration to Exchange, Office365 or GMail, users can also use their own email accounts (or other mailboxes they are authorized for) and send the email as if it would have been sent out of their favorite email client. Emails will also show in the sent items in Exchange or GSuite and customers can respond directly to the user. The powerful email template engine also allows personalizing emails before they are sent.